Globatex Research provides free website design and hosting plan for women-owned businesses in Ghana. This initiative comes in the wake of the global 'International Women's Day 2023' celebration. The goal is to empower women in business through digital marketing strategies.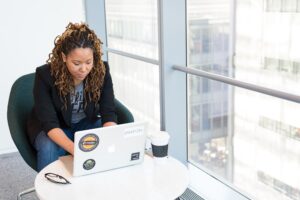 Technological advancements like the internet have woven themselves into modern society, and ambitious women are striving to employ these technologies to succeed in business. Digital marketing platforms like website helps businesses to grow their brand. Women from every industry and racial background can expand their enterprises using online resources like website. According to the Mastercard Index of Women's Entrepreneurship (MIWE), Ghana has the highest percentage of women business owners in Africa.
These women-owned businesses need to have active online presence and boost their business brand through comprehensive digital marketing strategies.
Why your Business needs a Website not just a Business Facebook Page?
Your website:
Adds credibility to your business:

How to develop credibility is a particular difficulty that small business leaders face that many larger organizations don't. The overreaching question is: How can a potential client verify your legitimacy? or that you are trustworthy and produce excellent work? Customers will look online when seeking these solutions. Do you have a website that people can easily find and that will provide the information they need?

Makes you look more professional:

If you're depending on your LinkedIn profile, Twitter or Facebook page to serve as the public face of your business, you risk alienating potential clients who don't think of you as a professional organization. Your website's professional appearance will increase your clients' innate faith that you are a legitimate company.

Promotes your brand:

One of the most crucial things you can do is present your brand to potential customers. Customers are more likely to buy from you if you are clear about who you are, what you stand for, and what you represent. It can be very difficult to accomplish this without a website. Because customers will find it difficult to locate trustworthy and high-quality information about your company.

Helps expand your business reach:

The possibility of increasing your odds of generating leads is possibly one of the most appealing reasons of having a website for your company. People who find you online will be are interested in your goods or services, and will be eager to learn more and get in touch with you, thus increasing your sales.
Consequently, female business owners will be able to connect with ideal clients who are online frequently searching for similar products and services. So as part of our corporate social responsibility, Globatex Research is dedicated to conducting the best possible services that is efficient and results-driven.
Our team of IT specialist will build your dream website that best describes your brand.
Potential customers are searching for your business – Let Globatex help them find you.
Free website for women-owned businesses.
Requirements:
Must be 100% female ownership
Must have a registered business domain name
Must have a business profile/plan
Deadline: Friday 31st March 2023