No matter how big or small you might think your church is, you've probably questioned yourself, "How can I grow my church and make it better? How can I spread the word and get more visitors? and "How can my church interact with its members more effectively? Your questions can be answered with one straightforward answer: Create a website. Churches obviously aren't about attractive websites. They focus on worshiping God and sharing the gospel. But, the modern world is completely different. We have been accustomed to searching online for almost everything in the era of the internet. So why is your church's website important?
And it appears that churches have a wide range of outreach alternatives (including radio, television, mobile apps, direct mail, social media, text messaging, etc.). The church website is one channel that shines above all others, despite the endless variety of possibilities that the modern church has at its disposal.
Now, let's look at the top five (5) reasons why your church needs a website not just a Facebook page.
1. Website offers platform to reach out to prospective members, donors, and partner churches
Word-of-mouth is not the only approach to promote your church, especially in the internet-driven world we live in today. Simply put, prospective members, donors and partner churches almost always go online to search nearby churches. For many people, the church website serves as the entrance to your church. People will look for your church on Google after hearing about it. Those who are looking for a new church to join will also Google nearby churches. When your church has a responsive website, you stand the chance of been noticed on the internet.
2. Increases involvement in Bible studies, reading, and prayer groups
People will occasionally miss a Sunday service because of obligations related to work, travel, their health, etc. A website enables you to build an online community where anyone may interact and find inspiration at any time and from anywhere. More people can now be reached than those who attend a prayer gathering in the middle of the week or on a Sunday. Members can communicate with one another via your website's live chat feature, message boards, and other tools. Members can explore church service opportunities online, share useful information with others, and more via your website. By providing members with more opportunities to contact with one another than only on service days, you will see your church expand.
3. You can share sermons, spiritual contents, and events/programmes
People are constantly looking for spiritual guidance and love. Your church's website may reassure them with messages that are comforting and motivating. It is insufficient to merely announce an event on a Sunday morning. Regular attendees or newcomers to the church may still visit the website to learn more about announcements that captured their attention or to subsequently listen to sermons that particularly resonated with them. Instead of shelling out a sizable sum of money on flyers and bulletins, members can get pertinent information by uploading it to the website. Your church can also keep its people informed by sending out or posting newsletters, polls, and surveys on the website, publishing a blog, and using other tools. Just imagine that more members of your congregation and others could access your sermons, spiritual contents, and events on a daily basis.
4. Website showcases your church's community involvement
Your church website can be used to highlight your church's involvement in the community, which has the added benefit of increasing your church's reputation and trust as well as demonstrating your concern for your members and the communities in which you operate. Utilize the website of your church to highlight the breadth and depth of your ministry and encourage others to join as well. You can emphasize your church's frequent collaborations with other nonprofits and neighborhood groups, as well as any noteworthy annual events and programs.
5. It is Affordable
Churches of all sizes can afford to have websites. The price of a website is frequently far less than the price of a single newspaper, radio, or television advertisement. Even just using the material on your website will help you quickly respond to some of the queries you get daily. It can also assist in lowering part of the price of your printed materials.
Globatex Research provides the best deals on website design and hosting plans for churches. Our expert developers will build your dream website that best describes your church's mission and vision.
Potential donors, partner churches, prospective members are searching online for your ministry – Let Globatex Research help them find you.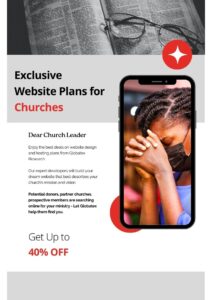 Get 40% off on your first website using the code GR0244
Do you have questions or comments concerning this article? Please feel free to leave a reply below.